Beef Central's Free Carbon & Cattle Market Seminar – Friday 11th November 2022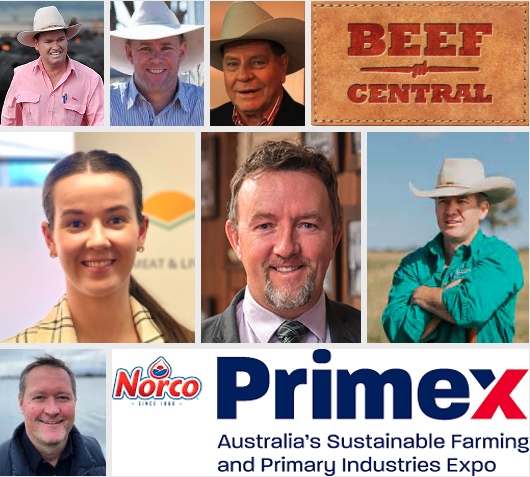 CATTLE producers visiting this year's Norco Primex Field Days at Casino in November will have a unique opportunity to hear direct from the experts on key issues relating to ag carbon and the cattle market.
Beef Central is hosting a free seminar program from 9am to 12pm at Primex on Friday, November 11.
The first session will update producers on key carbon farming developments of relevance to their own operations, whether they are well down the path of entering into carbon projects or simply seeking an understanding of where to start.
The carbon session will include presentations from Stuart Austin of Wilmot Cattle Company, an update from Al Rayner from CiboLabs on soon-to-be-rolled out free digital farm mapping which will be available to all red meat producers, and a comprehensive overview from Katelyn Lubcke from Meat & Livestock Australia on progress toward the CN 2030 goal.
In the second session producers will have access to a comprehensive update on the cattle market and its outlook from expert speakers including lot feeder Andrew Talbot from Kilara Feedlot, processor Simon Stahl from NCMC Casino and analyst Matt Dalgleish from EP3.
Both seminars will also include Q&A sessions giving attendees an opportunity to ask questions of the presenters.
To be MC'd by the host of the Beef Central Weekly Grill Podcast and ABC Landline founder Kerry Lonergan, the seminar will also give participating producers the opportunity to test their knowledge in a live cattle industry quiz via Slido on their mobile phones, with great prizes to be won.
Attendance is free, but pre-registration is essential to secure your place – please register you attendance at this link.
Primex at Casino was established in 1985 and now attracts in excess of 25,000 visitors across the annual three day event.
---
Business | Investment | Innovation
Collaboration is our focus, enabling us to develop events and activations designed to build strong programs and relationships alongside our stakeholders.
In conjunction with a number of organisations, government agencies and stakeholders, Primex Business Innovation Hub is a highlight of the Primex program offering a solutions-based hub with an exciting trade exhibition and program featuring:
Business networking
Education
NextGen
Advisory for start-ups
Inventors
Succession planning
Future farming
Finance & investment
Jobs advisory
Ag-tech