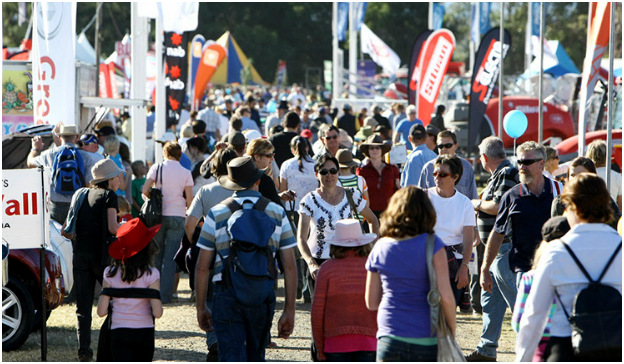 Posted: 15th June 2018
Posted in: News
As Norco Primex 2018 surges towards record figures, owner Bruce Wright has announced a significant date change for 2019.
With another spectacular fine day today, the second day of Norco Primex 2018 ushered large crowds through the gates, with many exhibitors tipping record sales from the event.
"We already have one of the biggest line-ups of exhibitors at Primex (320), now crowd numbers and sales are also heading towards 'best ever'," said Wright.
"The weather has been a big help, but we have also changed things at Primex and the exhibitors and now the visitors are acknowledging that."
Another major change is that the historic primary industries expo will be staged a month earlier, on May 16-18, 2019.
Norco Primex owner Bruce Wright said the date change was a significant part of five-year Primex plan, which began rolling out in the lead-up to this year's event.
"After taking over the ownership of Primex last year I have conducted exhaustive research into this event, which was the basis of our plan moving forward," he explained.
"A major pillar of Primex will continue to be innovation and to maximise our efforts in this area a change in date was considered essential. However there will be numerous benefits to the new date.
These include:
As gr0wth and development of 'Innovation' as one of the central focuses of Primex.
Allowing exhibitors at both Primex and New Zealand's Mystery Creek Field Days to attend each other's events. A new highlight of the Norco Primex Innovation Centre is a scholarship awarded annually for the winner within the Innovation Category. The winner will present and compete at the international category at the world-class Mystery Creek Field Days in New Zealand the following year (prize includes airfares and registration).
Allowing exhibitors and visitors the opportunity to display and purchase with a longer lead time to the end of the Financial Year.
Aligning Primex with Casino's Beef Week to advance and expand the opportunities to attract more visitors to the region for both events and therefore extending visitor time in the Northern Rivers.
Alleviating the pressure on Primex exhibitors, with five other similar events also occurring during the during current June period.
Offering a better lead-in time for Primex exhibitors to set up, without the constraints of a public holiday in NSW, which exists with the current date.
Mr Wright said current and long-term Primex exhibitors had applauded the date change.
"We constantly seek feedback on all things Primex, however in recent months we have been consulting exhibitors specifically about the date change and the feedback has been overwhelmingly in favour of the mid-May change," he said.
"Dovetailing with Beef Week has so many positives for both events and for exhibitors. It gives us a greater opportunity to leverage off the activities of Casino Beef Week and for them to work with us to bolster their programs as well during that period."
Both major sponsors of Primex, Norco and the Richmond Valley Council, have also shown strong support for the date change.
"Primex has always worked closely with these two organisations and they also can see the added value to this region by changing dates," Mr Wright said.
"The fact that it means a boost to our innovation program and aligns more closely with Beef Week is a big positive in their eyes.
"Also, with the current date being so close to the end of the Financial Year it places pressure on people to make purchases. From next year, with six weeks between Primex and June 30, it gives exhibitors the perfect time to create qualified leads from the show and then have them followed up in time for that Financial Year end date."
With more fine weather predicted tomorrow (Saturday), the final day of Norco Primex 2018, Wright is predicting a busy day for exhibitors.
"What the crowds are seeing this year is that there truly is something for everyone," he said.
"The core of the event remains for the man on the land, but there is so much diversity across the site. It is true reflection of the variety that exists across this region."
Full details of Primex's daily programs is at www.primex.net.au
Norco Primex is being held at Casino from June 14-16. It will host 320 exhibitors and is expected to attract more than 20,000 visitors, about $30million in sales and inject an estimated $5 million into the local region.
For more details contact:
Norco Primex Director Bruce Wright: Ph 0411 740 374
Norco Primex Media Manager Pat McLeod: Ph 0414 620 250