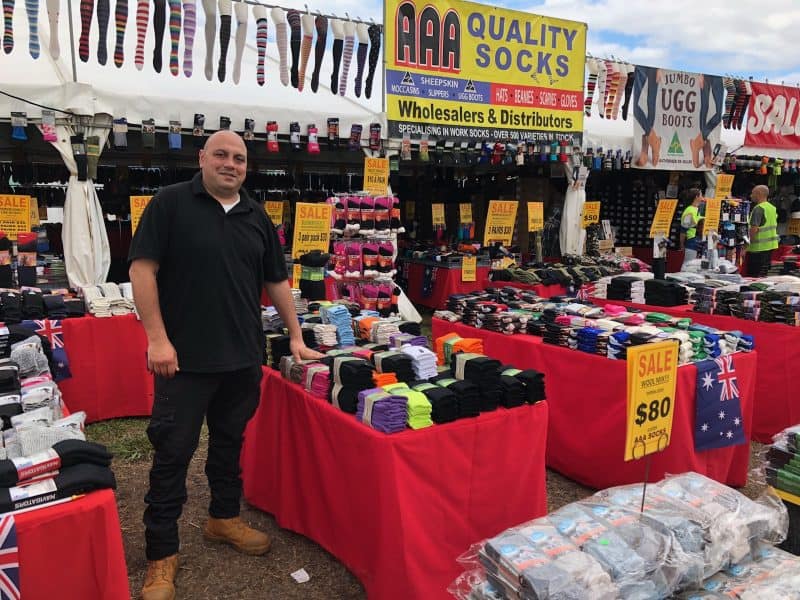 Posted: 17th May 2019
Posted in: News
Melbourne hosier Andrew Andronicou really believes in socking it to his customers.
He's back at Primex for the seventh year in a row looking after what is, as winter approaches, one of the most popular stalls on the grounds.
Indeed, the sprawling and blindingly colourful AAA Quality Socks shop pokes out like a big toe.
Andrew says he is stocking over 80,000 pairs this trip.
"Primex is a great marketplace for us.
"Our sales have always been good and well worth the trip each year," he said.
Andrew said farmers are a primary market, largely because they appreciate local production.
"The socks we specialise in are mostly Australian made, obviously the Ugg boots are all Australian made, and that's a very strong point with the farmers.
"In the city people don't mind all that much where their socks come from, but in the country, farmers want Australian made, they want wool products and they want good quality," Andrew said.
Apart from every sort and size of sock imaginable, the stall also sells beanies, gloves, scarves and hats.
And getting that sort of stock to Casino and set up on the grounds of the Richmond Valley Events Centre each year is a huge logistical exercise.
"I have a 10-tonne truck parked on one side of the stall and a 5-tonne van on the other side.
"It's a big effort to set up, it's a big job.
"We actually took two and a half days to set it all up, but the way I look at it, the more effort you put in, the more you get out of it," Andrew said.
There are more than 380 exhibitors at Primex this year, up from 320 in 2018.
More than 25,000 visitors are expected across the three days of the event.