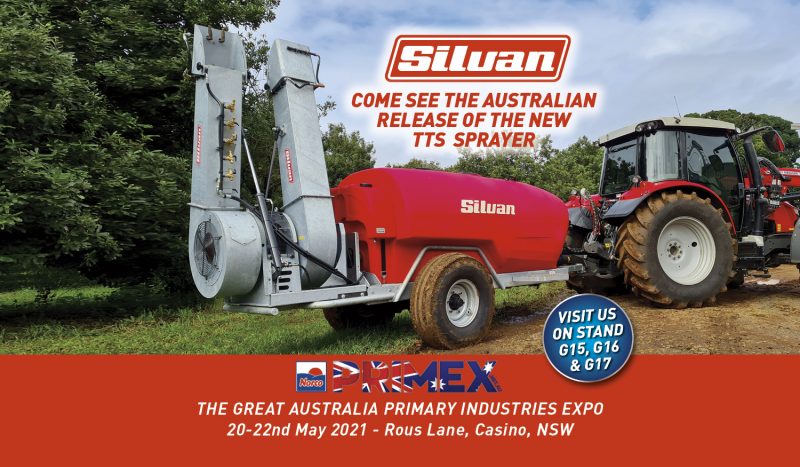 Posted: 18th May 2021
Posted in: News
Regular visitors to Norco PRIMEX know that this event is cutting-edge. There are always innovations to make life easier and more profitable for the man and woman on the land.
Each year PRIMEX is invariably one of the first places you will see many of these innovations.
That will again be the case in 2021, with one example being the new Silvan Tall Tree Sprayer.
Silvan Australia has just released this latest addition to its orchard sprayer range.
In response to feedback from customers for increased spraying efficiency and effectiveness when faced with the challenge of spraying tall trees such as macadamias, Silvan has developed the TTS to deliver the chemical where it needs to be.
The basis of the TTS is a twin conveyor fan system that is designed to deliver large droplets to the top of the tree yet retain the flexibility to spray smaller trees by hydraulically adjusting the angle of each conveyor. The TTS is available in either 3500 litre or 4000 litre tank capacities.
Other features of the TTS are a fully galvanised steel chassis, choice of Comet diaphragm pump or hydraulic drive centrifugal pump depending on the application, suspension axle and electric controls with in-cab pressure adjustment. Options include Bravo 180S spray rate controller and flotation tyres.
Silvan Australia's spraying product specialist David Carr says that the introduction of the new TTS is designed to help growers further improve efficiency in their spraying operations.
See Silvans Australia at G15 – G17