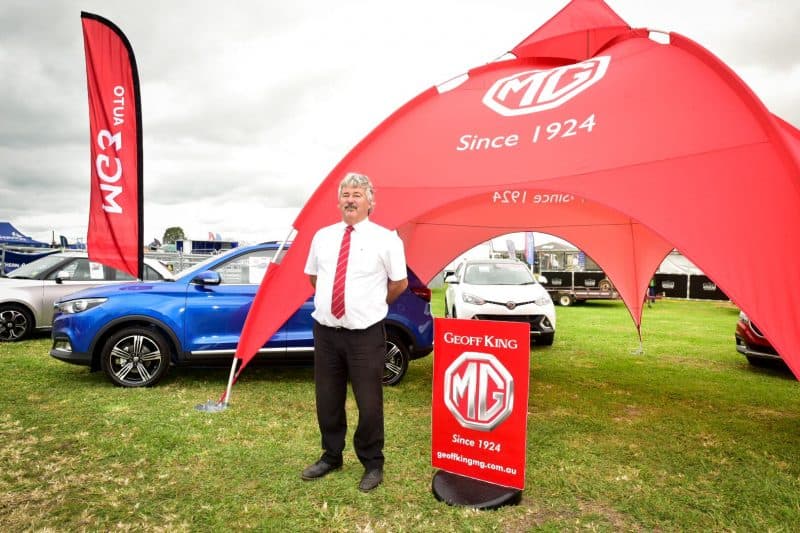 Posted: 16th May 2019
Posted in: News
THERE is  plenty of 'history' surrounding Geoff King Motors' exhibit at the 2019 Norco Primex Expo at Casino.
Not only is the NSW mid-north coast dealership and Primex celebrating their 35th anniversaries this year, but on display is one of motoring's most iconic and historic brands – the MG.
Geoff King Motors, who have locations in Coffs Harbour, Grafton and Macksville, are back at Primex this year after debuting there in 2018.
General Manager Paul King says Primex is the perfect platform to showcase their vehicles to a wider market.
"Geoff King MG was one of the first MG dealers in Australia," he said. "Going to Primex is about making more people aware of the brand and taking it to where they can see the product.
"Taking the cars to the people is quite an effective way of achieving that brand recognition. Putting the cars at Primex means that you are exposing them to thousands of people within a few days.
"Primex gives that showroom experience. People can actually sit in the car, get a feel for it and then from there we can organise test drives, etc."
The family-owned Geoff King Motors was started by Geoff King in 1985 – the year the first Primex was held in Casino.
The dealership has continued to grow since then and now is one of the largest privately-owned dealer groups on the NSW Mid North Coast.
Paul King (Geoff's son) said two MG products – the MG3 automatic and the MG ZS SUV – are on display at Primex.
"Both have been very popular sellers and are backed by a seven-year warranty," he said.
The British-born MG dates back to 1924 and is one of the most famous motoring badges. Initially a global hit as a sports car, the modern MG is now a fusion of British design style and cutting-edge technology.
Norco Primex director Bruce Wright said he was delighted to again welcome Geoff King Motors to Primex.
"Geoff King Motors is a respected brand and fits perfectly into the direction Primex is headed," he said.
"The plan is to continually grow Primex, but the number of exhibitors is not the focus. The quality of the exhibitors is. Brands such as Geoff King Motors certainly add to prestige of this expo."
There are more than 380 exhibitors at Primex this year, up from 320 in 2018. More than 25,000 visitors are expected across the three days of the event.
For more information on Geoff King Motor: www.geoffkingmotors.com.au