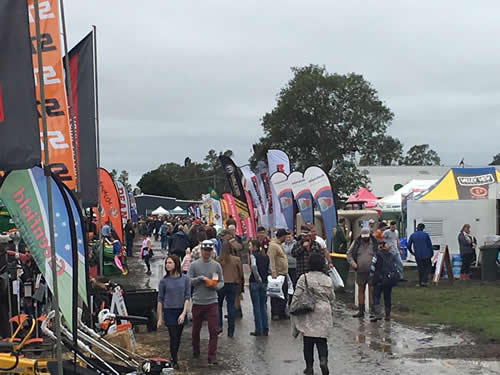 Posted: 18th June 2017
Posted in: News
As the gates closed on the 33rd annual Norco Primex Field Days, many exhibitors are reporting one of their most successful sales events despite the rain.
The annual three-day expo at Casino wound up today, as it started, with busy crowds amid occasional showers.
"I have spoken to many exhibitors and almost all at this stage are saying this has been one of the strongest Primex expos from a sales perspective," said Primex Field Days owner/director Bruce Wright.
"I guess the old saying 'Mud brings money' is true. And we are not talking just good sales, but in a number of cases, very good. One trader told me of a turnover exceeding $200,000 during the opening day.
"The busy sales were across most exhibitor categories – from solar power to tractors."
Mr Wright, who took over ownership of the event from his father, John, earlier this year, said he had been buoyed by the sales results and the confidence exhibitors have in the event.
"There is no doubt this is a 'selling event', as we have a great region of diversity that sustains strong enquiry and sales," he said.
"That could not be clearer from what has happened this year. With Casino receiving an estimated 10 inches of rain across the week, the event went ahead as scheduled, with the majority of exhibitors reporting very good sales and sales inquiries."
Mr Wright's comments were supported by many long-time exhibitors.
Dover and Sons owner Murray Dover said: "We are very happy with the result. Sales and solid inquiries have been up. The response has been excellent. With Bruce now at the helm we look forward to increased activity next year. It's certainly to our advantage to see Primex grow, so we look forward to what Bruce has planned."
Graeme McKenna, Director, Days Machinery: "We were very busy from 10am-2pm across the three days. There were a lot of people on our site and most led to sales, they weren't tyre-kickers. They were all buyers. As far as sales leads go, just me personally, I would say there will be three or four tractors that I will be selling in the next week or so from Primex inquires."
Cameron Bennett, President of the North Coast Braford Promotions Group: "Our aim at Primex is to promote the breed (Brafords) and to attract sales. That has been the case this year. People have indicated they will be coming out to our property to buy. For example, we had an inquiry from Port Macquarie, asking if we would be at Primex. Those people came up today (Saturday). They liked what they saw. They are coming out to home this afternoon and have indicated they will be buying. I am very confident of sales over the next few weeks from our Primex display."
Rob Sinnamon, general manager, Yulgilbar Station – Santa Gertrudis Stud: "You can't control the weather … but there certainly were positives out of Primex this year. People who are serious about looking for product or genetics are here. They will come rain, hail or shine. We use this as one of the mediums to promote our annual production sale. People have indicated they will come and buy after the show, so from that perspective it is doing its job."
Vaughan Macdonald, GM Richmond Valley Council (a major Primex sponsor): "Richmond Valley Council has had a long association with Primex. With Bruce taking the reins this year we have negotiated a new three-year sponsorship. From what I have seen out here, given the weather, it is a testament to everyone involved to make things happen. Bruce has done a great job. We will continue to work with Bruce to grow this event for many years. Our community wants jobs, growth and economic development. Events like this enable us to achieve that."
Country music icon James Blundell was a special guest at Primex today (Saturday) and performed at several pop-up concerts across the site.
Mr Wright said the star quality of Blundell was an indication of the future of Primex.
"With the ownership change we had four months to prepare for this year's Primex," he said.
"I am now looking forward to the 12-month lead-in to Primex 2018. The planning starts now and current and new exhibitors will see our five-year plan begin to formalise.
"The launch event for our next Primex will be in August, but all the way along we will continue to work closely with exhibitors, who are the bedrock of Primex and continue to program special events such as the innovation, education and entertainment scheduled. This is about the partnerships we are wanting to form with exhibitors. The success of our exhibitors is the basis of Primex being successful."
Mr Wright said Primex's reach had extended this year with inquires coming from throughout NSW, Queensland and even further afield.
Mr Wright praised his staff, exhibitors and visitors for working through the wet conditions.
"There would be very few similar agricultural events that could present and achieve the results being posted based on the weather activity this week," he said.
"We had machinery and staff working before, during and after each day of the event to try and ensure the best possible site for buyers and exhibitors.