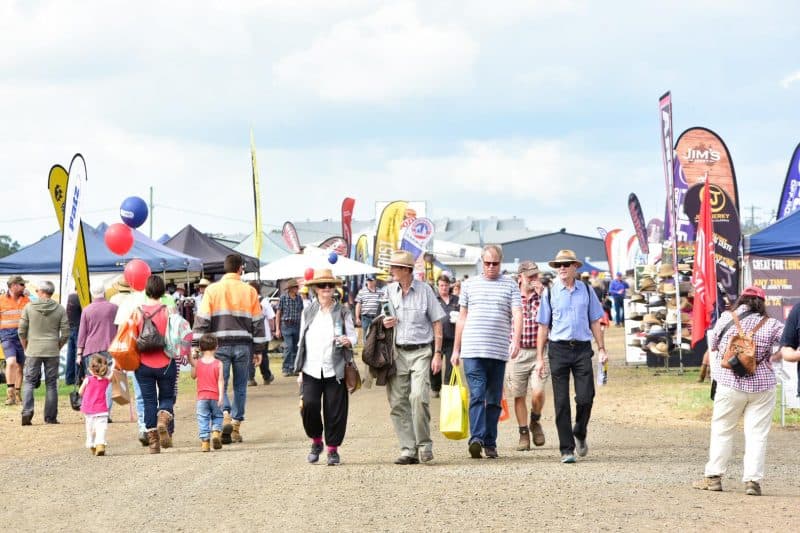 Posted: 17th May 2019
Posted in: News
NORCO Primex director Bruce Wright has predicted 'one of the biggest Saturdays in many years' after a bumper crowd streamed into today's Day 2 of the event.
Friday's program began with an inspirational women in business breakfast. As that event ended and the gates of Primex opened the 18-hectare site was flooded with a busy Friday crowd.
"We are on track to exceed expectations," Wright said. "Tomorrow (Saturday) is looking very good. The weather has been very kind to us and that is set to be the case again on Saturday.
"The exhibitors I have spoken to have said this is one of the busiest Fridays they have ever experienced at Primex."
Richmond Valley Council Mayor Robert Mustow, a guest speaker at the breakfast, echoed Wright's sentiments.
"This is a very important event for this region," Cr Mustow said. "The money it generates for the community is just great. But it is more than an economic benefit. As you can see by the crowds at Primex, it is also a fantastic social occasion.
"We (Richmond Valley Council) have worked with Primex for many years and we are looking forward to supporting the event into the future."
Council general manager Vaughan Macdonald said Primex represented a vital economic plank within the council's economic structure.
"The whole Primex site look s great this year," he said. "There are more exhibitors than last year, more innovation and Bruce (Wright) has done a great job at the helm bringing new things to the event.  I am really excited by it.
"The sun is out today and hopefully our community and the wider community come here tomorrow,  have a look at some of the great products on display and spend some money.
"The feedback yesterday from our stall, is that people are visiting from South Australia, the Gold Coast and beyond and they like what they see. They like the variety of attractions."
Glen Innes businesswoman Jane Newsome, also a guest speaker at the breakfast, said she was delighted with her first visit to Primex.
"My husband Brad has a list," she laughed. "It is important for people to support local events like this. This is right on the doorstep of the New England region so should be appealing to people from there."
Day 3 – Saturday – highlights
Farm Kids Chicken Workshop
Bull & Heifer Classic Stud Cattle Grand Parade
Entertainment with James Blundell & Katie Brooke
Australian Working Dogs Team Championships (Finals)
FLOW HIVE: Live Honey Harvest & Tasting – discover the wonder of harvesting honey
Cooking Demonstrations with Local Produce
Scott Keogh Horsemanship Demonstration
School's Tractor Pull – Finals