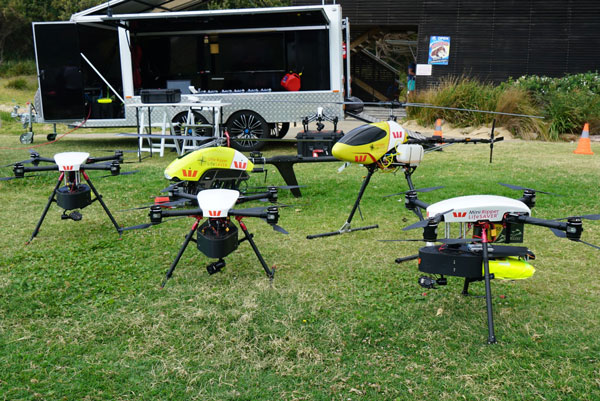 Posted: 21st April 2017
Posted in: News
Visitors to Norco Primex Field Days 2017 will step into the futuristic world of 'farming via drones'.
What those visitors will quickly learn is that the future is already here.
"The uses for drones in agriculture are changing every week," says Ben Trollope, Chief Operations Officer for one of Australia's leading drone companies, The Ripper Group.
"Their use is only limited by our imagination. Whether it's checking fencelines, or bores or a cow giving birth or controlling noxious pests, there is a drone ready to do that job.
"My aunt, who is in her early 60s, sits on her porch at her two-acre orchard at Orange and uses a drone to scare birds off her trees."
The Ripper Group will spearhead part of the innovation feature at this year's Norco Primex, which will be held at Casino from June 15-17.
They will be showcasing the latest in Unmanned Aerial Vehicle (UAV) technology specific to agriculture, but also showcasing the technology to farmers for multiple purposes on their properties.
These technologies will include: crop health; LiDAR capability; contour and water run off mapping; thermal inspection; UAV fertiliser application; noxious pest control; herd inspection and detection; property mapping; and fence and water inspections.
"We have a range of products and systems that will be onsite to increase farmer awareness of what technology is available and also have engineers and pilots available to answer relevant questions in regards to customisation," said Ben.
Norco Primex director Bruce Wright said the appetite for drone information at this year's expo 'is amazing'.
"The wider agricultural community is just starting to realise the scope and practical uses for UAVs," he said.
"Primex has always been at the forefront of innovation and our drone displays at this year's expo will be a classic example of that.
"We have had a lot of interest from people who supply the drone technology and from the man on the land seeking information on their capabilities.
"Little Ripper has taken their technology to surf lifesaving and are saving lives with drones around the country. They are now taking that same technology to rural Australia.
"In fact they are about to open a UAV Centre of Excellence for agriculture at Dalby."