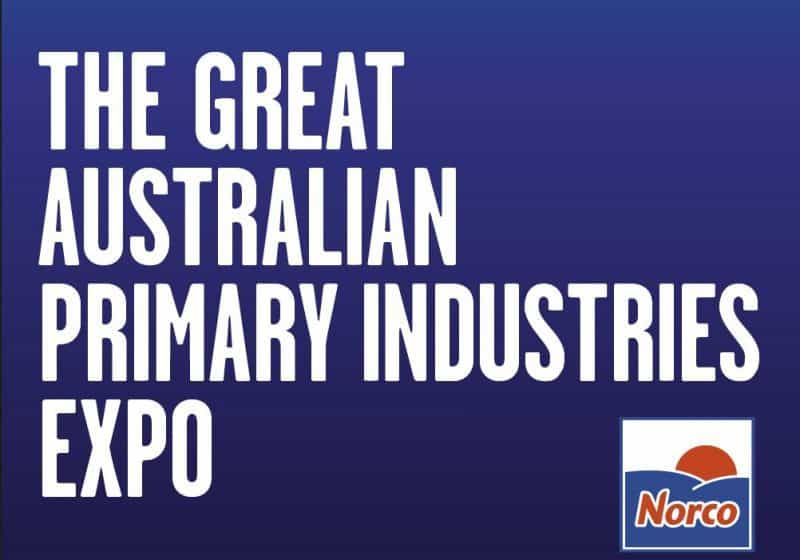 NORCO Primex 2018 will open the gates to its annual primary industries expo at Casino in Northern NSW on Thursday with a fresh new look.
According to owner Bruce Wright there has been a major push to widen the historical event's appeal.
Norco Primex 2018 will be held from Thursday, June 14, through Saturday, June 16, and there will be a marked difference to any of its predecessors.
"The slogan for this year is 'Take a Fresh Look'," said Mr Wright.
"Of course, we proudly remain a primary industries expo, but with so much more competition in the marketplace you have to continually evolve and remain relevant," he said.
"We have retained the integrity of a trade event, but there is also a celebration atmosphere right across Primex of what it is to be 'country'. You can see demonstrations of some of the most cutting-edge farm machinery, but you can also grab a barista coffee and watch chefs doing cooking demonstrations.
"Urban families will discover Primex is an unbelievable farmers' market … just a lot bigger with a lot more to see, taste and feel. There really is something for everyone."
The gates to Norco Primex open at 9am on Thursday, June 14, however their will be a nostalgic official opening at 11.30am on Friday, June 15, by retiring State Member for Lismore Thomas George.
Mr George has been part of the 'Primex family' since it began in 1985.
"When my father started this event, one of the prominent locals who gave invaluable assistance was Thomas George," said Mr Wright.
"He has been supportive ever since, so I think it is extremely appropriate that Thomas officially opens the 2018 Norco Primex event before he steps down from public office next year."
In 2017 the ownership of Primex transferred from John Wright to his son Bruce. This current version under the new owner has more of the Bruce Wright stamp.
"My passion is innovation, education, the next generation of farming," he says.
"I want people to experience more than a trade display. If they want more detail, then it will be at Primex. I want people to know that when they come to Primex they will get to see the latest seminars, workshops and speakers.
"If you look through our three-day program it is packed with quality industry presentations."
Mr Wright has not only made Primex more appealing to 'Joe Public', but has also worked even more closely with industry organisations to ensure they are well represented at Primex 2018.
"I have been out and spoken to the farmers – the fruit and vegetable growers through to the cattlemen," he said.
"I have sought and received their feedback and made appropriate changes to Primex. I have sent out almost 5000 invitations to industry groups and individuals – including representatives from businesses covering earthmoving, agricultural and primary industry.
"Exhibitor numbers are past the 300 mark, making this already the most successful Primex in years. However exhibitor numbers are not our priority. We want exhibitor quality.
"We want the people who come to Primex to be seeing and experiencing the best of the best. We want people coming here and telling their friends: 'This is something you can't miss'."
Norco Primex will be held at Casino from June 14-16. It will host more than 300 exhibitors and is expected to attract more than 20,000 visitors, about $30million in sales and inject an estimated $5 million into the local region.
For more details contact:
Norco Primex Director Bruce Wright: Ph 0411 740 374
Norco Primex Media Manager Pat McLeod: Ph 0414 620 250
Email: [email protected]