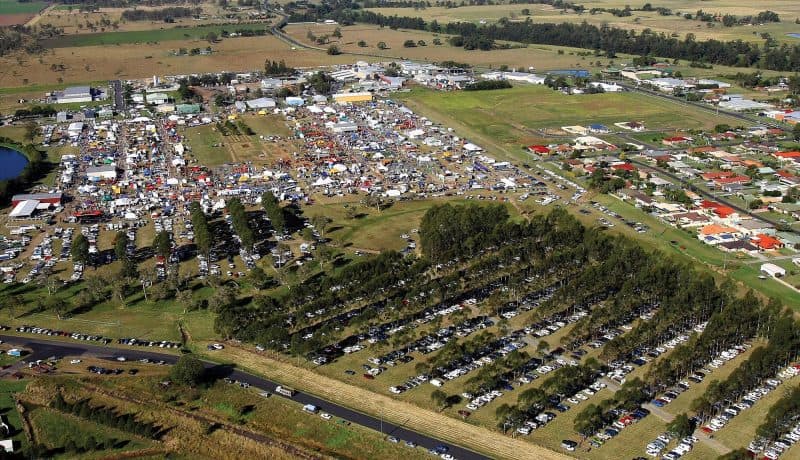 NORCO PRIMEX – Just One Month Away
We're just a month out from Norco Primex 2018 and this year is shaping up to be bigger and better than ever, with awesome new attractions, site upgrades, new partners, new exhibitors and plenty more to bring visitors to Casino between June 14-16…here's just a sneak peek.
---
Site Upgrades – Plenty Of Work Done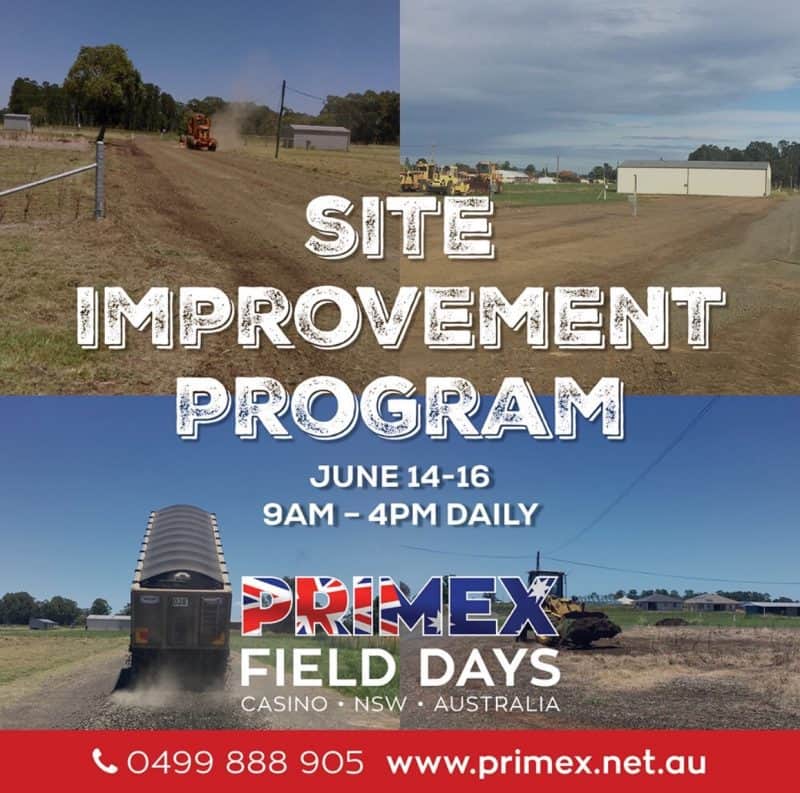 To keep improving the Norco Primex site for Exhibitors and visitors, there has been a lot of spade work since the 2017 expo. Primex organisers have spent a considerable amount of money to upgrade the site for both the set-up and delivery of the event.
This has included the expansion and widening of roads, improved management of drainage and improvements to facilities such as the Norco Primex saleyards and new loading facilities. More than 800 tons of gravel has been added! We're certain all exhibitors will see the improvements on the site as soon as they arrive for set up.
---
Lots Of New Faces In 2018
Norco Primex staff are certainly sensing an excitement around this year's event, with growth pushing exhibitor numbers past the 300 mark with four weeks still to go.
These final weeks always see a final flurry for exhibitor spots, but already the event is the biggest for five years. This shows the tremendous strength of the industry and of Norco Primex as the premier field days exhibition and agribusiness event in Northern New South Wales.
---
Technology Makes It So Easy
It has never been easier for your customers to find you at Primex, with our Interactive Map thanks to MapYourShow up on our website. Direct any customers that are coming to PRIMEX to www.primex.net.au and they can search by name and pinpoint your exact location.
Primex was the first field days event in Australia to invest in this CRM, which is now used at most major field days in USA and is designed to provide exhibitors with lead generation prior to, during and after the event. Norco Primex Field Days has also included the ability for every exhibitor to upload all information about their company and product range including digital that will assist the exhibitors achieve their objectives at the event. (We ask all exhibitors to please ensure all their details are up to date in the system by using the login details provided. This will also assist with the information, which will go to publication in the next seven days, including insurance and public liability details.)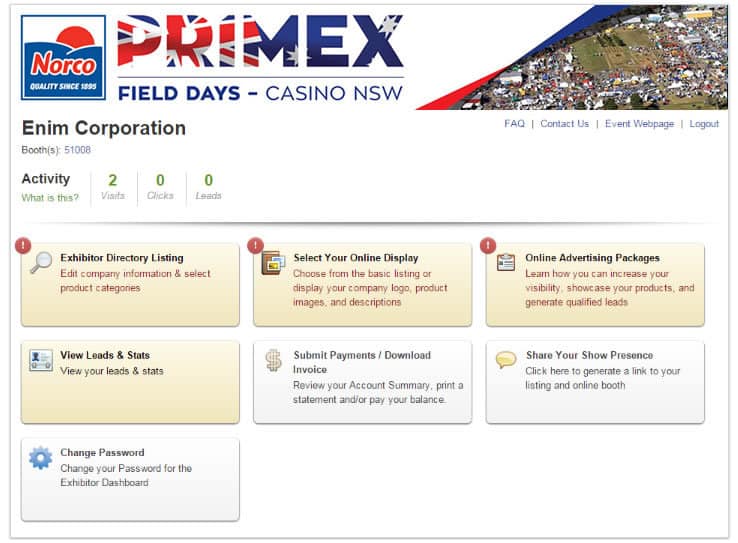 MapYourShow's interactive map that was introduced last year has been upgraded so that visitors can plan out exactly what they want to see – they can search by exhibitor or look at the entire site plan. Everyone is busy and time is of the essence, so for those who only have a short time with us at Norco Primex, they can easily have their show mapped out before they even arrive.
---
If It's New, It's At Primex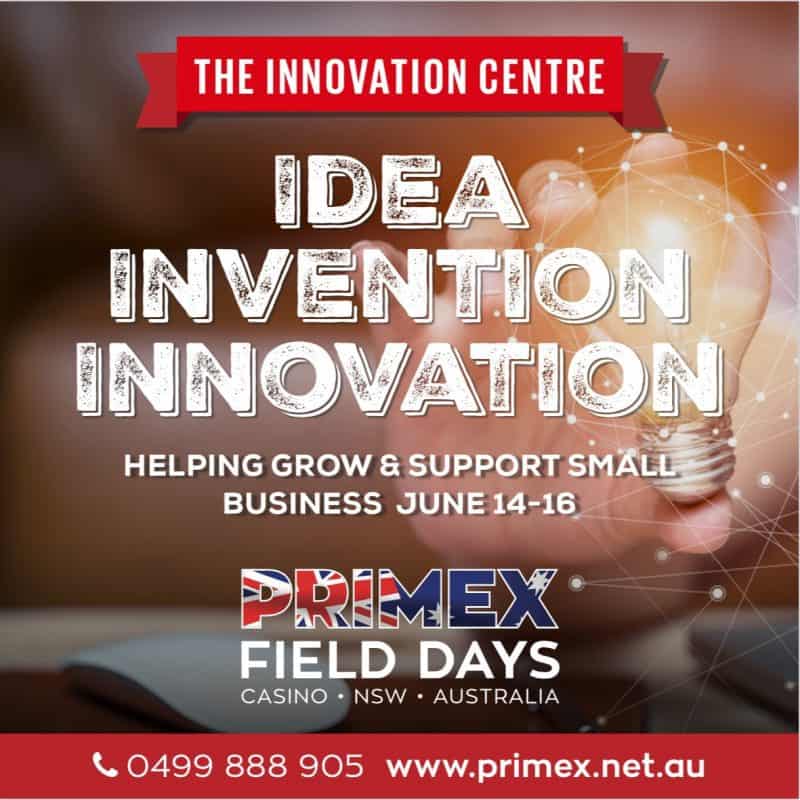 Innovation has always been the Primex 'calling card'. This years' Innovation Centre is set to be the central hub for many new activities and events within Primex Field Days, dedicated to supporting, advancing and profiling sectors such as Invention, Next Generation and Farm Succession, Business Development and Planning, Local Produce and Cuisine and Agricultural Technologies and Services (Agtech).
Australia is known as being one of the most innovative countries in the world when it comes to designing solutions for the agriculture industry and we'll be showing many of them at Primex – with a scholarship to the Mystery Creek Field Days – one of the biggest in New Zealand – for the best innovation to be awarded.
---
Paddock To Plate Pavilion
Within the Innovation Centre is the Paddock To Plate Pavilion offering the best in
Northern Rivers produce, cafe's and restaurants. This will feature cooking demonstrations and displays from farmers, growers, vignerons and so much more.
---
NSW Farmers Association Members Day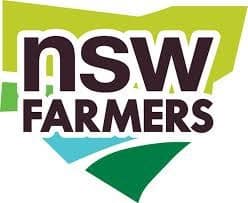 With an agreement that has been negotiated between Norco Primex Field Days and the NSW Farmers Association, NSW Framers will be inviting approximately 1000 members from throughout the region to attend a special NSW Farmers Day at Primex – Thursday June 14.
All members of NSW Farmers will be provided a double pass through a special online ticketing program (details released shortly) to attend the event's first day this year.
This is being co-ordinated as part of Primex's commitment to affiliating with all major agricultural and primary industry growers and producers where over 4000 invitations will be sent out.