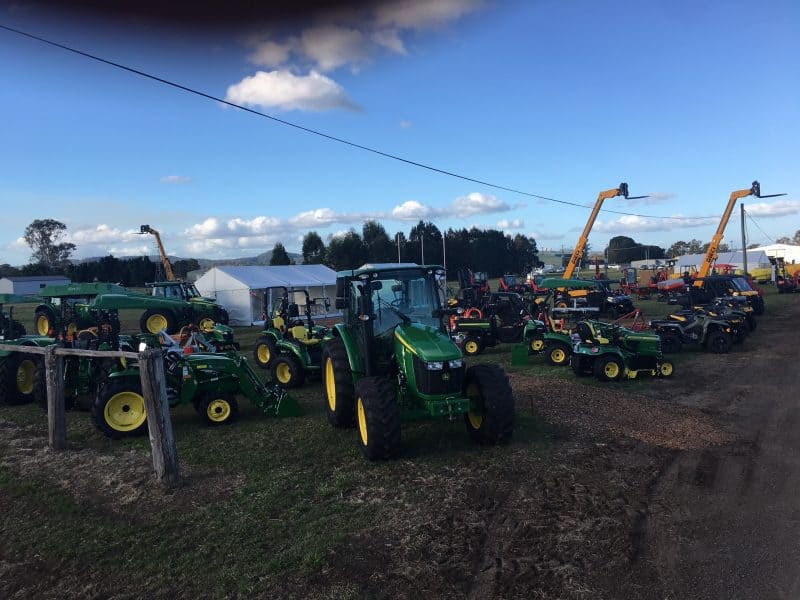 Posted: 13th June 2018
Posted in: News
Norco Primex Primary Industries Expo owner Bruce Wright is expecting 'a near perfect start' when the gates to the 34th Primex open tomorrow (Thursday) at Casino, northern NSW.
The 320 exhibitors have set up across the 18-hectare site and Wright is confident of a bumper opening day crowd.
"We have worked really hard to make this year's Primex truly outstanding," he said.
"I can guarantee visitors to Primex 2018 will see things they have never seen before and certainly experience exhibits that are unique."
Crucially the weather forecast for the three-day event (Thursday, June 14, to Saturday, June 16) is 'fine and sunny'.
Wright's family started Primex in 1985 and he has been involved almost every year. Last year he took over ownership of the event.
It was a baptism of fire with the 2017 expo experiencing wet conditions. Despite the weather, many exhibitors reported near-record sales.
Since then Wright has conducted an exhaustive survey into Primex. The result, a detailed five-year plan, has already been unfurled.
"Exhibitors and visitors coming back to Primex will see a totally new event," he promises.
"2018 is a taste of the future of Primex. Exhibitor numbers are at 320, which is the highest in five years.
"Since the 2017 Primex we have spent a significant amount on infrastructure – the most since 1989. The roads, buildings, cattle yards have all been improved. This will be a far better experience for exhibitors and visitors.
"This is a new era for Primex. The feedback that I have received from exhibitors already on-site has been outstanding."
Wright said a primary focus of the new 'Primex plan' was an emphasis on innovation and education and Next Generation Farming.
There is a comprehensive program of seminars at Norco Primex 2018, which dovetail with numerous educational displays and demonstrations.
"We have a spectacular array of speakers at our Primex forums this year," said Wright. "People like Beef Australia's CEO Denis Cox, who heads one of the world's most significant beef cattle events, and who is here this year to not only be a guest speaker, but to show his support for Primex."
Wright said Primex 2018 remained true to its core value as being a 'showcase for the man on the land', however he said it was also a 'giant farmers market' for urban visitors.
"There really is something for everyone and it is an event for the whole family," he said.
"There are cooking demonstrations, sheep dog trials, a sumptuous Paddock to Plate pavilion. There is giant earthmoving equipment that you will not see at any other expo. Aussie singing legend James Blundell is performing, we have a new hospitality hub with a Stone and Wood bar."
Primex has also made attending the event so simple. Visitors can pre-buy their tickets on-line – www.primex.net.au. There is a free shuttle bus ferrying people from locations across Casino. There is also free parking at the event.
However one of the most popular innovations is the Norco Primex App, which allows visitors to explore on-line what is at Primex and then plan their trip.
"What excites me is not only what we have achieved for this year's Primex, but also the future of this event. We already have in place multi-year deals with our wonderful major sponsors – Norco and the Richmond Valley Council," said Wright.
"I urge visitors to come to the event early … there's a lot to see."
Norco Primex will be held at Casino from June 14-16. It will host 320 exhibitors and is expected to attract more than 20,000 visitors, about $30million in sales and inject an estimated $5 million into the local region.