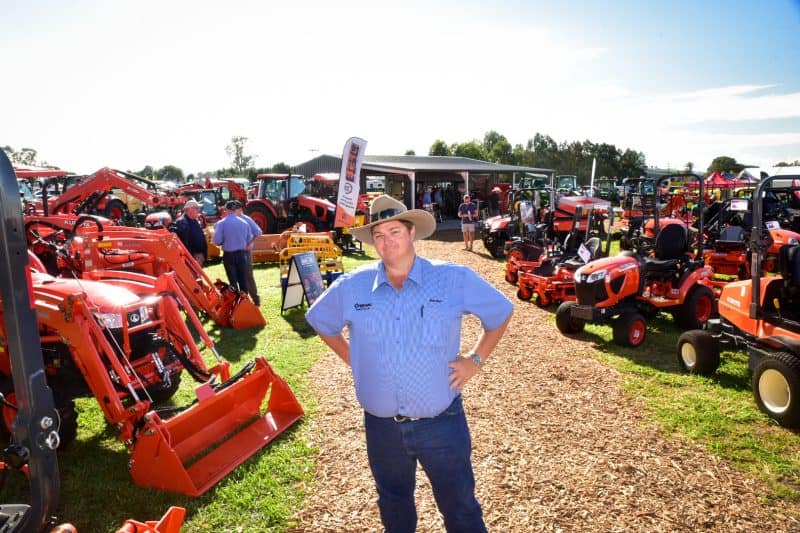 Posted: 18th May 2019
Posted in: News
LONG-TIME Primex exhibitors Ongmac Trading, have confirmed their longevity as part of the expo by unveiling their new purpose-built shed at the event.
The 10m x 10m (including awning) shed is a new addition for Ongmac and houses  a variety of merchandise, a meet and greet area and also staff offices.
Ongmac sales consultant Brendan Disson said the construction of the $30,000 shed was the best indication that the historic Lismore company would be a part of Primex for many years to come.
"We keep coming back to Primex because we know that, from a sales perspective, it works," he said.
"Ongmac has always had great success at Primex, but that isn't just because it is a very good sales forum. We put a great deal of work into the three sites we have at the event.
"Our bump-in is always done early and we take a great deal of pride in how our sites look. We have three sites at Primex. For three days they are our shopfront to the thousands of people who walk by.
"We believe we are very professional in how we operate so it is also important for our shopfront to look professional.
"We know the cost of coming to Primex, the staff, the infrastructure etc, is worth it because it generates sales, but it is also important that we look professional while we are here. We don't want our site to look like we just threw up a tent in a makeshift manner. We want it to look very good.
"A major part of the appeal of Primex is the fact that you have so many people coming past in a short amount of time."
Ongmac have been selling farm machinery out of Lismore for 35 years and have been associated with Primex across about 20 of those years. The well-known brand is also about to expand, with plans to open another retail site in Grafton by late this year.
Primex director Bruce Wright said Ongmac was the perfect example for other exhibitors to follow.
"They put a great deal of work into their site and that reaps rewards," he said.
"It is a simple equation, make your site as inviting as possible and there is a fair chance people will want to come in and have a look.
"This is exactly what Ongmac does … and it works."