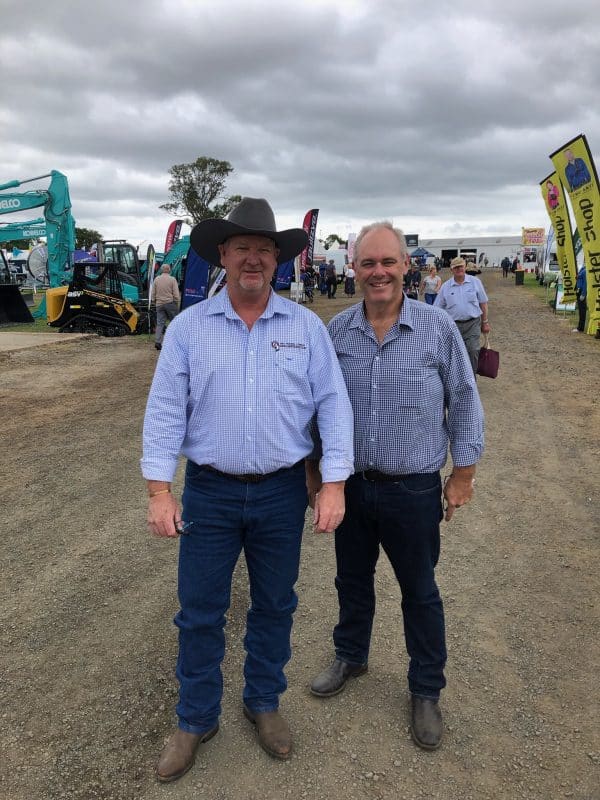 Posted: 16th May 2019
Posted in: News
When pastoralist Shannon Gardner jumped behind the wheel to begin the six-hour round trip from Queensland's fertile Darling Downs to Norco Primex 2019, he knew he was in for a busy day.
The NIOA Pastoral Company stud at Allora already develops some of the strongest Santa Gertrudis genetics possible, with an active program for expansion and development of their premium bloodlines.
But it was the lure of the most recent innovations in DNA engineering that inspired Shannon to make his first visit to Norco Primex  since 1989, and his first as a regular punter.
"I'm looking to DNA our 160 head of cattle, develop a decent database and look at all the latest technologies for our stud," Shannon said.
"And I know I'll find all that here."
In a previous life over 30 years ago, Shannon erected marquees and lugged chairs for Primex and Wright Hire founder John Wright, the father of current director Bruce Wright.
He remembers 1987 being particularly wet and muddy as he carried chairs and tables around the grounds for the 40 or so exhibitors of the time.
But his whirlwind one-day mission at Primex 2019 has a lot more science attached to it.
"I'm particularly interested in tissue sampling for DNA which lets us monitor the traits of our cattle, it lets us know the ones that have short gestation periods, ones that are long, ones that are performing and ones that aren't.
"You make really good contacts at field days like this.
"Everything's in the one place, there's something here for everyone and if you want to come and have a look at pastoral equipment or tractors or seeds or whatever, everything you need to know and see and touch is here.
"But you really need three days to take it all in properly these days," he said.
Indeed, with over 380 exhibitors at the 2019 edition, it's clear Primex has gone from strength to strength over the past three decades.
For his part, Bruce was delighted to be re-united in the flesh with a good old mate he hadn't seen but had kept in close touch with over the past two decades.
"During the Wright Hire days Shannon and I used to go out a lot on the road together and put gear up for other field days," Bruce said.
"That's where it all started.
"We had a Gold Coast office and an Alstonville office, and the Alstonville office was the one that ventured into the bigger field days like AgQuip and FarmFest and those sorts of events.
"Shannon was like a big brother to me back then and we didn't lead each other too far astray," he said unconvincingly."