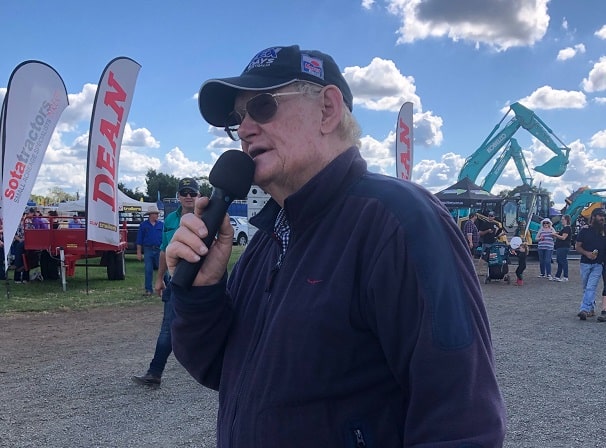 Posted: 18th May 2019
Posted in: News
When ground announcer Peter Crawford speaks, it's like Golden Syrup pouring through the bullhorns.
And in his 39th year of calling agricultural shows and his 33rd straight Norco Primex, the disembodied dulcet tones of the veteran radio man are as crisp, clear and commanding as ever.
But, he says, the words didn't always come out that way.
"My voice broke when I was 15 and it frightened my mother no end because she thought I had a disease," Peter reminisced on Saturday.
"I had a very, very light voice and she was panicking until she saw my dad was laughing; he knew what was going on," he said.
His voice suddenly deepening and living in the right house in the right street led Peter to a decorated 41-year radio career, starting in 1959 as a 16-year-old at 2MO at Gunnedah.
"Our front gate and the front door of 2MO were right opposite each other, just a few metres apart because the roads weren't very wide in those days.
"The station manager Lou Worms asked me across the hedge one day if I wanted to be a radio announcer.
"As they did in those days, I applied for the job with a reel-to-reel (audition) tape and before I knew it, I was on-air that Sunday giving it a go.
"I went on at one o'clock and finished a four and when the shift finished Lou asked me when I could start my new career," he said.
At the time Peter was working for Storeys department store at Gunnedah, but wasted no time in handing in his two weeks' notice.
"Everything in those days was manual, nothing was automated.
"We had big discs and reel to reel tapes and cartridges, and it was a lot of work and lot of fun at the same time," he said.
Almost as an afterthought, Peter reveals that his very first radio interview was with none other than the Prime Minister of the day, the 'Father of the Liberal Party', Sir Robert Menzies.
"I was still only 16 years of age at 2MO.
"He was a big man, Bob, and he said to me 'I believe you're the one who is going to interview me', and I told him I was.
"He asked me if I was frightened and I said I wasn't, but I didn't have a clue what I was going to ask him.
"We spoke for 13 minutes and when he got up, he said, 'well, if you're 16, I'd like to see what you're going to be like when you're 30′," Peter laughed of his Prime Ministerial seal of career approval.
After two years at 2MO the road beckoned with station postings at Newcastle, Townsville, Sydney, Moree and Grafton.
Along the way he met and worked with the biggest names in Australian radio and international entertainment.
"I worked with John Laws who was a hard man to work with but also a nice guy, and I worked alongside 2GB's Ken Sparks and Ward Pally Austin, who were big names in Sydney at the time.
"I actually took over from John Laws at 4TO in Townsville, and the listeners were rather intrigued when John Laws' voice left and mine came on sounding pretty much the same."
But it's the roll call of some truly stellar names that causes Peter's face to really light up.
"I had a program when I was at 2MW at Murwillumbah called the Personality of the Week and I'd go up to the Gold Coast to the old Broadbeach Hotel where a lot of the famous entertainers performed and stayed.
"I had the pleasure of talking to Charlton Heston, Stella Stevens, James Mason, the Monkees, the Rolling Stones, Liberace and a lot of others.
"It was six years of having a marvellous time talking those people," he said.
Peter said he came across the odd 'stinker' but most were happy to spend time in front of his microphone.
"One of the nicest was Cliff Richard, who was an absolute gentleman.
"When I went to England for a visit in the 70's, my wife and I ended up staying at his house.
"His next-door neighbour was Frank Ifield and Maurice Gibb lived on the other side of him, so we had a BBQ.
"It was just tremendous, and they just treated us like they knew us forever," he said.
The innately modest Peter says he has no intentions of writing an autobiography.
"Radio was just what I wanted to do; I stuck at it I had a great career.
"I've got a lot of memories that I cherish and a lot of memories I'll keep to myself," he said.
Indeed, from Prime Ministers to Primex, Peter Crawford has seen and called it all.