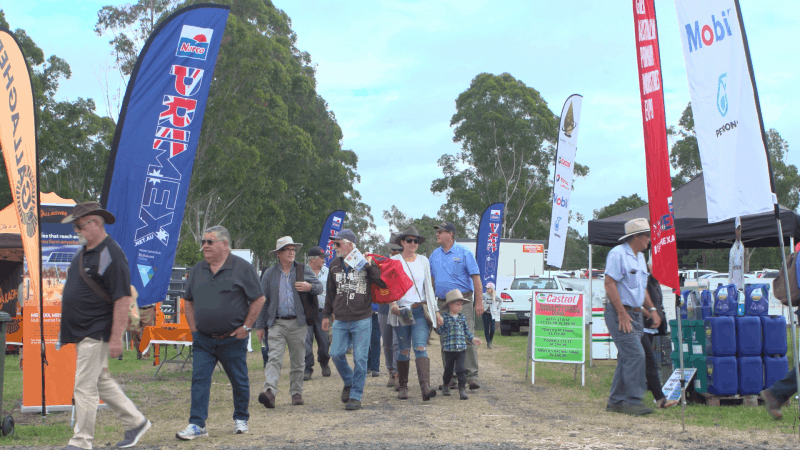 Posted: 16th May 2019
Posted in: News
The gates opened today to the 35th annual Norco Primex Primary Industries Expo at Casino, Northern NSW,  and there were plenty of fresh faces among the exhibitors and above average first day crowd.
"People are already talking about the changes, the improvements," said event director Bruce Wright.
"This year's event, on day one, is already shaping as one of the best ever. What is exciting is that within hours of the gates opening, exhibitors who have been with us for a long time are saying how different and refreshing Primex 2019 is.
"Our strategic plan has been to widen the appeal of Primex and to make the event even more relevant to primary producers and the organisations who represent them.
"The proof is now here. We have more than 380 exhibitors (up on 320 in 2018) and the visitors I am talking to today are liking what they are seeing."
Among the first people through the gates this morning were Leeville (near Casino) couple Greg and Sheila Galea.
The long-time poultry producers say they never miss Primex because of the great deals and the social activity.
"There is no doubt, you get great deals at Primex and it is also a chance to catch up with friends."
Also on site early today was Territory Manager for local business Riverina Stock Feed, Guy Porter.
Guy has worked at an exhibit at Primex every year since it started in 1985.
He said the changes initiated by Bruce Wright had resulted in some significant improvements in 2019.
"This has always been a successful sales event for me," he said.
"I have never had a failure at Primex, however this year there are so many new faces among both exhibitors and visitors."
The most popular events at Primex so far include the Paddock to Plate Pavilion, which is showcasing local produce with chefs preparing the ingredients into mouthwatering dishes.
Also attracting crowds was the inaugural primary schools tractor pull, the working dog workshop, the innovative Flow Hive bee exhibit and large machinery demonstrations.
Primex runs through until Saturday. It is expected to attract more than 25,000 people and result in about $50million in exhibitor sales.
The Norco Primex highlights on Friday, Day 2, include:
Up With The Sparrows – Advancing Women In Business & Agriculture Breakfast (tickets online);
Scott Keogh Horsemanship Demonstrations;
Cooking Demonstrations with Local Produce;
FLOW HIVE: Live Honey Harvest & Tasting – discover the wonder of harvesting honey;
Chef Kaine Hunt from Secret Chef – Esperanza Farm Produce;
School's Tractor Pull;
Entertainment with James Blundell & Katie Brooke;
Chef Simon Davis at Paddock to Plate;
Australian Working Dogs Team Championships (Workshop & Heats);
Red Meat & Industry Awards presentations.