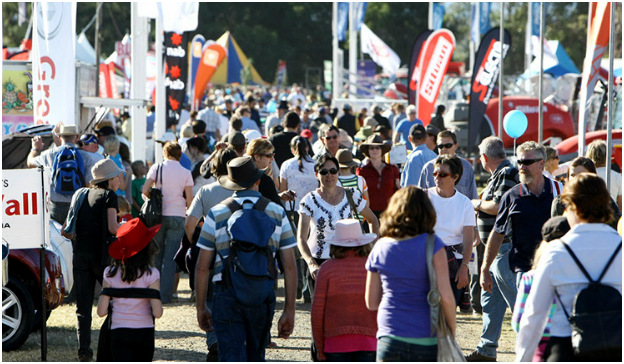 Posted: 2nd September 2017
Posted in: News
PRIMEX Field Days has launched their 2018 event by announcing long-term supporter Norco Co-Operative Ltd as the event's naming rights sponsor for the next three years.
The iconic, three-day event will be held at its Casino, northern NSW, base on June 14-16, 2018.
Primex director Bruce Wright said Norco's decision to sign up as the expo's naming rights sponsor for the next three years was a huge vote of confidence in the future of Primex.
"Primex and Norco have been partners since our very first field day at Casino in 1985. Norco has a great deal of belief in this event," he said.
"They have been around since 1895 and are farmer owned. For this highly respected, international brand to commit their name to Primex for the next three years speaks volumes about their confidence in the event.
"Richmond Valley Council are already one year into a three-year major sponsorship of Primex. So, arguably the two biggest organisations in the region have inked their names to this event well into the future."
Mr Wright, who took over the ownership reins of Primex from his father John earlier this year, said he was already confident of a record-breaking event next year.
"The dates we have settled on, Thursday, June 14, through to Saturday, June 16, follow extensive consultation with farmers and exhibitors and obviously has end of financial year benefits. However we will continue with the consultation process for all future events to maximise opportunities for exhibitors."
Mr Wright said Primex already had a proven history of tradition and innovation, but Primex 2018 would be 'something special'.
"Buyers and sellers come to Primex every year because they know they will get value. But they also know they will get a look into the future. I have already been approached by several exhibitors who want to showcase some pretty incredible cutting-edge technology at Primex 2018.
"We have special exhibitor packages, set to be launched in September, with the most affordable sites at Primex for over 20 years. These give small business and exhibitors wanting to engage with 25,000 potential customers options starting from less than $500 to participate.
"We want to reignite the reasons businesses showcase at field days – because it's cheaper and more measurable than general advertising and gives face-to-face contact with customers, generating leads and sales."
Norco Primex Field Days, one of Australasia's most successful and longest running agricultural expos, has been held continuously at Casino since 1985.
Norco Primex Field Days 2018 will be held June 14-16.