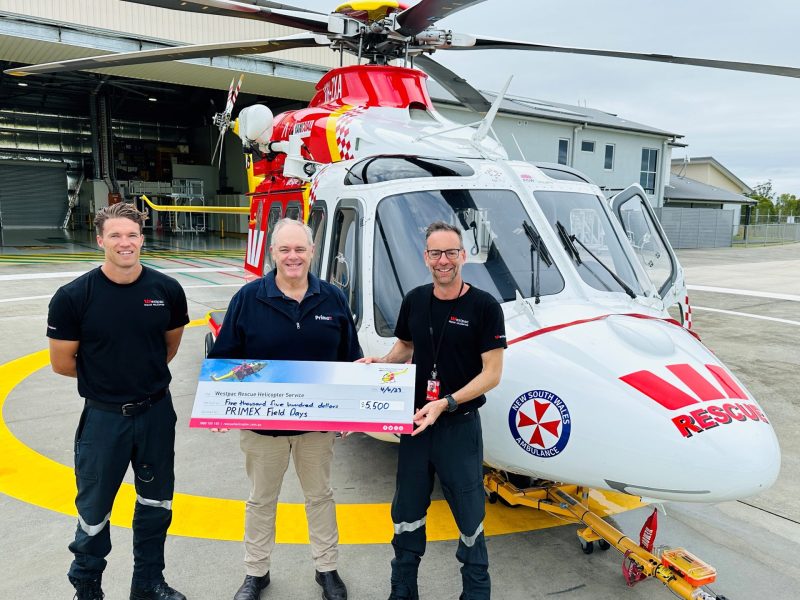 The organisers of the annual Norco Primex Field Days event have once again given their support to the regions Westpac Rescue Helicopter Service.
The Service is a charity partner of the event with Managing Director for Primex, Bruce Wright commenting "We are reminded each year of how strong a link the Rescue Helicopter has to the farming and rural community through the life saving missions they perform on properties across our Northern NSW region".
"We are delighted to be able to donate knowing full well that it could be one of our event patrons who might need the Service next in an emergency," said Mr Wright.
This new donation of $5,500 comes from their successful 2022 event with a similar donation made back in 2021. Overall, the combined support by Primex through cash donations and the value of donated site spaces at the event to the Service since 2017 has now reached $27,670.
Spokesperson for the Westpac Rescue Helicopter Service, Zeke Huish remarked "We feel very fortunate to have Bruce and his team offering their continued support which has been ongoing for nearly 3 decades".
"From our three bases in Newcastle, Tamworth and Lismore our Service responded to 50 farming emergencies in 2021/22 and having the support of events like Primex play a vital role in helping to ensure that our Rescue Teams can be on standby 24/7 for when they are needed most ".
"We wish Bruce and his team another successful event this year as they celebrate the 39th running of Primex on from 11-13 May," said Mr Huish.
---
For more details please contact Zeke Huish on 0431 266 291 or Bruce Wright on 0411 740 374