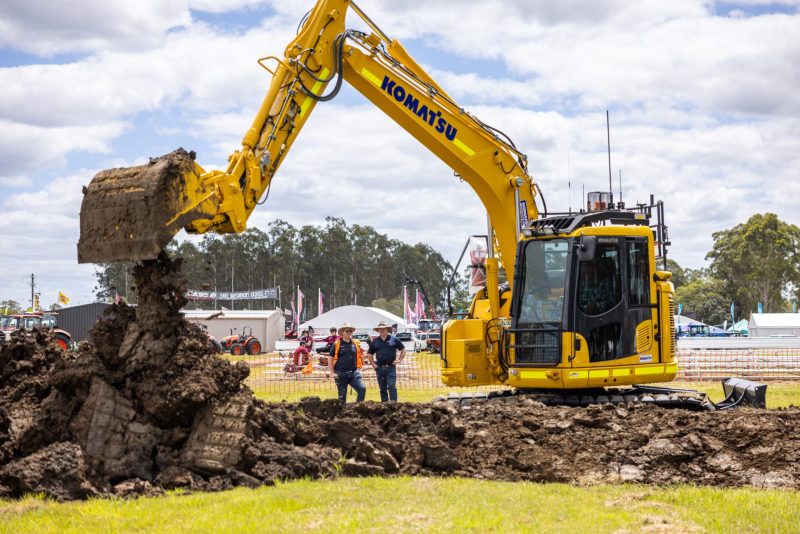 Posted: 5th May 2023
Posted in: News
PRIMEX is back bigger, better and sooner than ever with the 2023 Rural and Farming Industry Field Day returning to its regular schedule and opening at 9am next Thursday May 11th at the Richmond Valley Events Centre in Casino.
"We are the largest business trade event across northern NSW and SEQ and this is the most complete and balanced event we have staged since 2019," said Primex Director Bruce Wright.
Norco Primex 2023 will feature more than 350 exhibitors and 1,200 different companies, collaborating with 30 business, primary industry, state and national organisations including Meat & Livestock Australia, NSW Farmers, Australian Macadamia Society, Berries Australia, Timber NSW and NSW Cane Growers. Major partners also include Norco, North Coast Local Land Services, Australian Government (BSBR), BCU Bank, Southern Cross University, Richmond Valley Council.
As well as boasting the biggest display of agricultural tractors, machinery and equipment including demonstrations from earthmoving and construction anyone could possibly want, Primex 2023 also established three new industry hubs.
Along with the existing Business/Innovation/AgriTech and Education and Careers hubs, the new: Health and Wellbeing hub; The Forest Industry Collective; and Affordable Housing, Home and Lifestyle hub will further address the needs of this region's rural and farming communities.
The new Health and Wellbeing hub sees Primex working with the government and other support groups to bring a range of health experts together onsite.
"People in the rural and farm sector pride themselves on their resilience and may not treat their own health as a priority," Mr Wright said.
"Our onsite Health Hub will offer the opportunity to receive health advice and a range of check-ups including, general health, oral and skin cancer checks amongst a range of others"
The Forestry and Timber Industry Collective will showcase the latest information on regenerative farming and tree planting and the practical outcomes from plantation forestry with integration of farms and trees for long-term economic and environmental benefits.
"Not only is the timber and forestry important for sustaining the building industry, it is also part of our low carbon future heading toward CN30," Mr Wright said. "Service providers will give practical advice regarding support for landowners in assessing their land and reforestation options."
The new Affordable Housing, Home and Lifestyle Hub will showcase the best suppliers, ideas, and products for investment in the region in residential, commercial, industrial and lifestyle sectors.
"With agri-tourism opportunities extended, farms can now offer accommodation for up to 20 people. Farmers now have an exciting new revenue stream available to them and we have a variety of cost-effective housing options onsite to see first- hand."
Southern Cross University will also host a panel discussing the 'The Future of Farming: Adapting to Tomorrow's Agriculture' which will explore innovation in agriculture, the role of ecosystems and sustainability on farms, horticulture production, soil health and regenerative AgTech for the future. The discussion, commencing at 3.30pm on Friday May 12 will include some of Australia's leading voices in agriculture, science and industry.
First up on Opening Day will be the inaugural Sourdough 'Women In Business Breakfast showcasing Georgina Inwood, goat farmer and founder of Table Under a Tree; Skye de Wit, beef cattle breeder; and Katrina Patton of Pyewackets Traditional, herbal tonics drink producer.
The Nourish Food & Drink Festival and this year's Paddock to Plate program will again showcase local food and beverage producers with cooking demos from Native Food Queen, Mindy Woods and author and wellness chef Samantha Gowing.
"Nourish creates connections between farmers and foodies, where visitors can see, taste, and share the huge variety of food experiences and destinations across this region." Mr Wright said.
Other Primex highlights include the Farm Animal Nursery, Daily Wildlife Twins Shows, Battle of the Breeds with the regions leading Beef Breeds, Helicopter Joyflights, 4WD, Outdoor Leisure and Lifestyle Showcase.
Beyond this and much more, Primex is designed to be a great family and business day out and a once in a year reference to see innovation and celebrate farming and engage together with national industry presentations, guest speakers and networking events.
Norco Primex 2023 runs from Thursday May 11 until Saturday May 13 from 9am-4pm daily at the Richmond Valley Events Centre located at Cassino Drive, Casino.

Tickets on sale now | Save 25% on Gate Prices
Purchase your tickets online and receive a 25% discount and chance to win some great prizes, including a kids ATV farm quad bike courtesy of Days Machinery Centre and CFMOTO Australia.