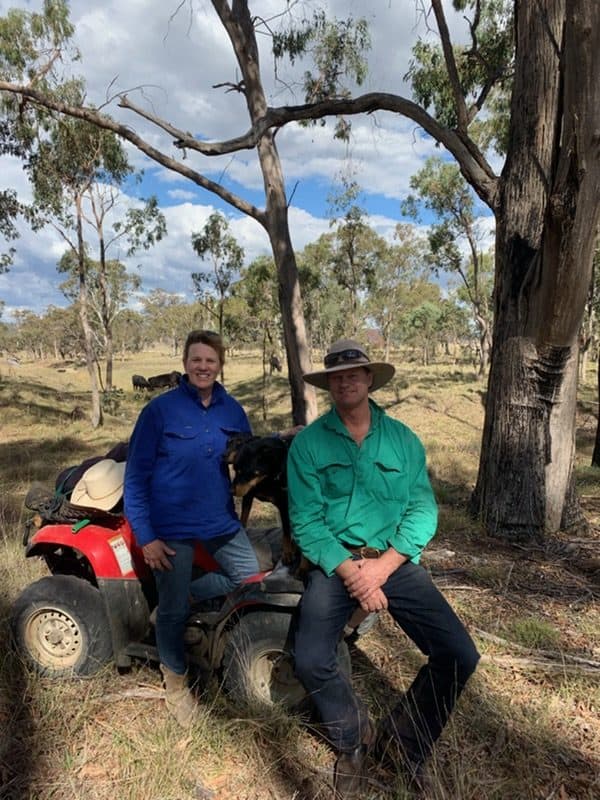 A SEASIDE getaway may be the furthest thing from the minds of drought-weary farmers throughout parts of the NSW New England region, but one of them believes that's exactly what is needed.
Ashley Whitehead, pictured above with his wife Anne-Marie, is 'on the road' at the moment with about 100 head of cattle sourcing feed from a countryside desperate for rain. Home is a 612 hectare property at Kings Plains, north west of Glen Innes.
It may be dry, really dry, but Whitehead still refers to the area as 'God's Country'.
"It's a great region. The best place to bring up a family," he says.
"But we could definitely do with some rain. Some of the neighbours who have been here for generations say what we are going through is unprecedented. They have never seen it so bad.
"If we don't get good rain before winter, well …"
Whitehead moves quickly to another subject, something close to his heart and just as important as the weather – the mental health of families in the region.
A good mate of his, Bruce Wright, is the owner of the Primex Primary Industries Field Days, held annually at Casino on the NSW Northern Rivers.
Many months ago, before the drought's bite was as deep, the former school mates were having a beer.
They were talking Primex, drought and how tough, mentally, things were headed for families on the land. Eventually the topics merged and crystalized into 'Plan, Play and Stay' – a campaign to not only bring families to Primex, but to stay a couple more days and refresh amid the delights of tourist havens such as Byron Bay.
"I am not sure who came up with the idea first. Bruce will probably claim it," Whitehead says with a laugh.
"All I know is that it is exactly what so many people around here need right now. They have the weight of the world on their shoulders and would be thinking that a trip to the coast is the last thing they need or could afford.
"But it would do them the world of good. Primex is a highly respected primary industry event, so there are plenty of reasons to attend it. Instead of turning around and coming straight back, stay at least another day and freshen up."
Whitehead says he sees daily the effects the drought is having on other locals.
"It is relentless, debilitating, insidious. And you live and see the effects every hour of every day. That's why even a short break away is so important, so you can literally brave the elements again."
Primex was established by Bruce's father John in 1985 and Bruce has been a Director since 1989, becoming the owner in 2017.
Primary industry remains the core of Primex, however Wright has widened its appeal. The 18 hectare site on the edge of the Casino township is expected to house about 370 exhibitors during this year's May 16-18 event.
"The man and woman on the land remains a major focus, but this event has appeal for most demographics and the entire family," says Wright.
"Features such as Paddock to Plate, entertainment, the Innovation and Investment Hub, Farm Kids Workshops and working stock dog trials have now become a staple of Primex over and above the cattle and heavy machinery.
"The Plan, Play and Stay program came out of a discussion with Ash. At that time we were talking about making the event more attractive to the people who faced a drive of a few hours or more.
"That evolved into Primex partnering with numerous destinations on the NSW North Coast offering special deals and discounts to Primex patrons.
"There are so many great tourist attractions close to Primex, so why not plan to stay a bit longer and enjoy yourself."
Wright agreed with his mate's appraisal that drought-stricken families needed a break. He has had his own brush with depression and that's a major reason why the Black Dog Institute, who assist people suffering from mental illness, is a Tier One Charity on the Primex community support list.
(Northern NSW Local Health District Richmond Breast Care Nurses are Primex's other Tier One charity).
"Primex has been around for 35 years. We now have many close links and friendships with people on the land," he said.
"Across those years farmers and their families have come to Primex because they know they can talk to people here who understand what they are going through.
"It helps."