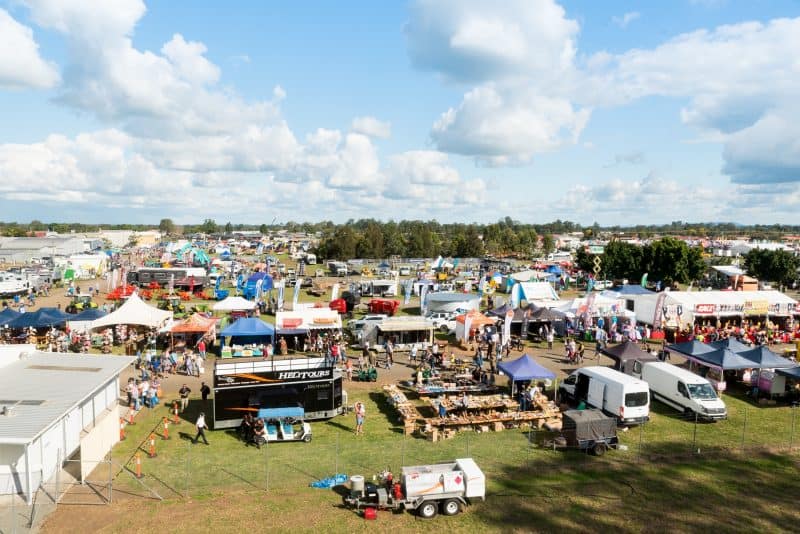 Norco PRIMEX, Australia's Sustainable Farming and Primary Industries Expo, is coming out of COVID-enforced hibernation and will return to Casino, Northern Rivers NSW, from May 20-22, this year.
In announcing the 2021 go-ahead for the family-centric, primary industries field days event, Director Bruce Wright, immediately paid tribute to PRIMEX's close-knit exhibitor group, many of whom have been with the expo for decades.
"With the challenges PRIMEX has faced during the Covid-19 pandemic, we again express our sincere appreciation for the consideration and support many of our dedicated exhibitors have provided towards our family-owned business, especially over the past 12 months," he said.
"While many agricultural industries and businesses showcased by PRIMEX have been able to rise, overcome and generate sales, especially following floods, drought and fires, the restrictions imposed due to Covid-19 by government where unavoidable."
"Having worked tirelessly with local, state and federal government departments, agencies, and elected officials, we feel agricultural field days have received genuine consideration and assistance and that is why we are able to relaunch Norco PRIMEX in 2021."
Mr Wright said "the safety of everyone involved in the event was the absolute priority and extensive work in preparing and managing relevant systems, has been and continues to be completed to ensure the event goes ahead successfully on May 20-22."
"With our CovidSafe Plan in place, we have a means to deliver a safe, healthy, and successful PRIMEX now and into the future," he said.
"PRIMEX has been forced into hibernation since March 2020, however we are now preparing to launch and provide all our long-established and new exhibitors with an event that will continue to operate professionally to support our extensive base of exhibitors and visitors.
Mr Wright outlined for exhibitors the next stages of the PRIMEX Road Map:
1. All confirmed exhibitors from PRIMEX 2020 (200+) will be notified when the new 2021 exhibitor platform is live (in mid-February), enabling exhibitors to login and update their information, participation, product details and build their customer awareness campaigns.
2. The Norco PRIMEX prospectus will also be circulated at this time to assist current and potential exhibitors in their planning and considerations, with updated details associated with maximising their investment and participation at PRIMEX.
3. The PRIMEX website will be the central hub for the latest detail of the CovidSafe Plan and management systems that the event and its exhibitors will operate by, while also highlighting the new and exciting features within the 2021 event.
4. There has been extensive building of enquiry from the region's farming and consumer communities, with registrations now being received and tickets for visitors about to be launched in the new contact free environment of online ticketing deals.
5. Recent announcements including Austrade Business Events Grant offering up to 50% from participation costs and the inclusion of the Westpac Rescue Helicopter's Outdoor Leisure Show – now hosted by PRIMEX and supporting the community service provider as one of the events Tier One Charities – is part of a growing momentum towards an exciting and new look event.
Mr Wright said: "We expect that Norco PRIMEX 2021, Australia's Sustainable Farming and Primary Industries Expo will have almost all remaining sites booked and sold by the end of March with a target of 400 exhibitors and over 1000 suppliers."
Exhibitors wishing to update or finalise their bookings for Norco PRIMEX 2021 should contact the organisers via [email protected]
New exhibitors wishing to be contacted and receive the prospectus as a priority should register – click here
Updates for PRIMEX can also be found by following the PRIMEX social media including: