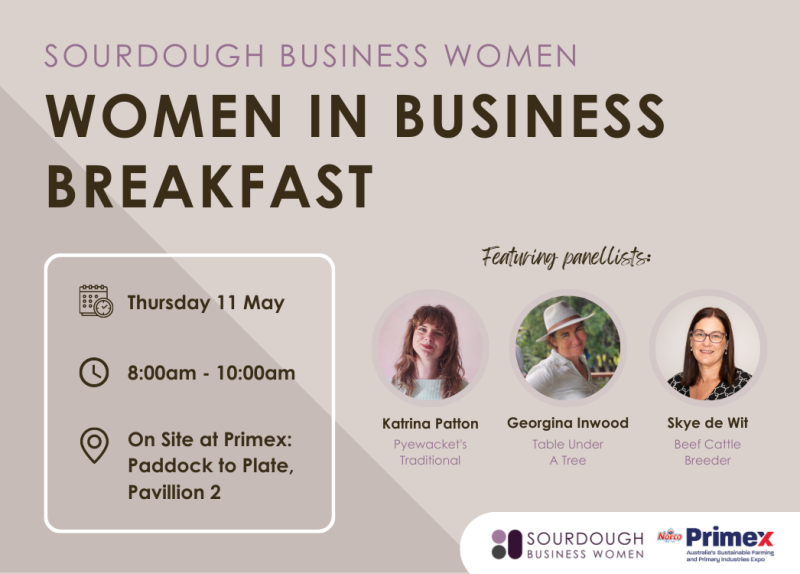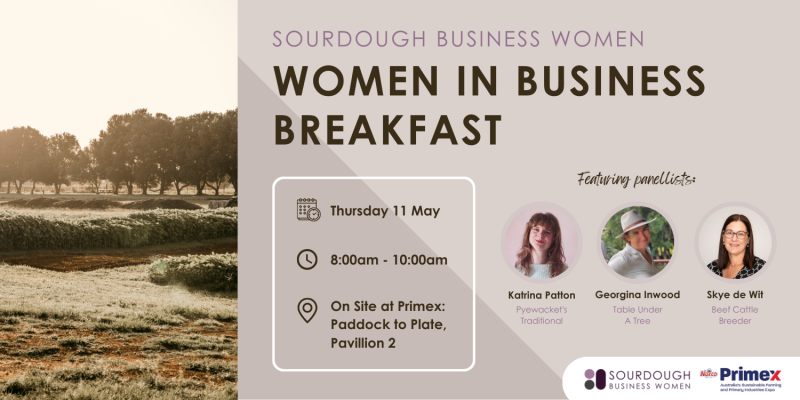 Join Sourdough Business Women for an exciting opening event at this year's Primex: the Women in Business breakfast. This inaugural collaboration with Primex will showcase three local female producers: Georgina Inwood, goat farmer and founder of Table Under a Tree; Skye de Wit, beef cattle breeder; and Katrina Patton of Pyewackets Traditional, herbal tonics drink producer.
Enjoy a delicious continental breakfast featuring sweet and savoury pastries (including gluten-free options), local sourdough with house-made preserves, fresh fruit, and your choice of tea or freshly brewed coffee. Plus, your ticket includes access to Thursday's Primex Field Day.
Interested in learning more after breakfast? Whether you're a producer with a new idea, a farmer teaming up with an entrepreneur seeking investment for your concept, or simply curious about the Sourdough network and our regenerative agriculture startup program, visit us in the Innovation Hall at Primex. We'd love to chat!
About the panellists:
Katrina Patton
Katrina Patton is the co-founder of Pyewackets Traditional, a local drinks business committed to sourcing and using local fruit, herbs and the occasional invasive weed to make traditional drinks. Originally from Kyogle, Katrina grew up in her family drinks business which she would later bring from local markets through rapid expansion, become a finalist in the Australian Business Awards and oversee the sale of the business in 2017.
Katrina then joined with local naturopath Genna Pyewacket to start Pyewackets Traditional from Gennas home kitchen. Setting out to make delicious and healthy, traditionally slow brewed tonics, shrubs and bitters. The business grew into a production space in North Lismore which they lost in the flood and have since rebuilt in Ballina. Despite the setbacks, Katrina and Pyewackets Traditional are on a mission towards a land based, low-waste, slow-food future one delicious drink at a time.
Georgina Inwood
Georgina established and operates Table Under a Tree, an award-winning Northern Rivers business offering a range of products and services including business-to-business development and training, as well as consumer focused food and farm industry products including tours, special events and ethical goat meat. Most recently the focus has been on providing advocacy, business and marketing advice to local businesses and industry organisations as they seek to rebuild and recover from the 2022 floods. Clients include Regional Development Australia, Lismore Produce Markets, and local food businesses. Georgina is currently Vice-Chair of Northern Rivers Food.
Skye De Wit
Skye has worked locally in the finance industry for 16 years and currently specialises in Agribusiness and commercial businesses servicing the Agri sector, she and her husband Dane have 2 school age children and they run a beef cattle breeder operation on a mixture of owned and agisted properties across the region.
---
Sourdough Business Women: Connection I Empowerment I Collaboration
Tickets:
$35; price includes a delicious continental breakfast (pastries, sourdough, preserves, fruit platter, tea & coffee) and the opportunity to connect with women in the region.
When:
Thursday 11 May from 8:00am – 10:00am
Where:
Primex – Richmond Valley Events Centre, Casino Dr, Casino NSW 2470
For tickets and information click here