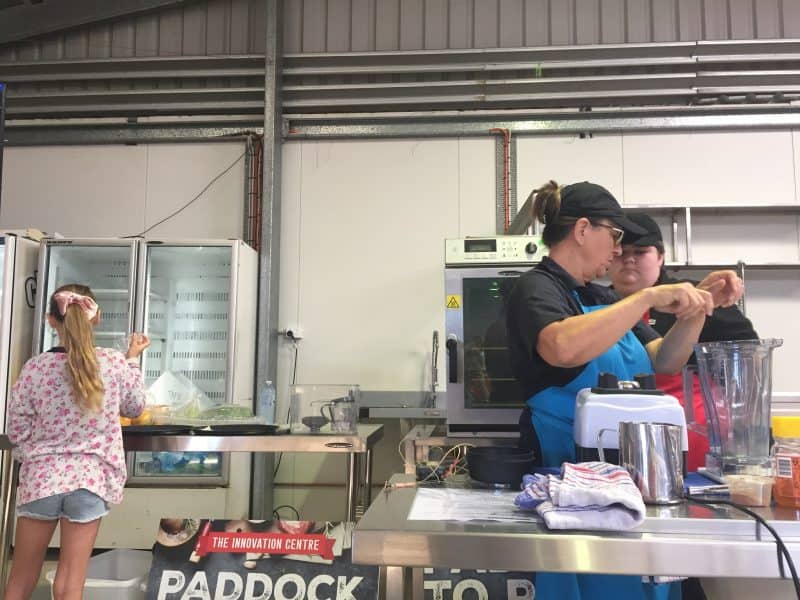 Posted: 18th May 2019
Posted in: News
By Stacey Schwenk
Local TAFE hospitality students have spent the past three days showcasing their healthy and fresh food cooking skills at Norco Primex 2019.
"TAFE had been here many years ago, but we haven't participated for two years," TAFE Hospitality Manager, Jenny Slater said.
"This year we're doing healthy smoothies and nutritional products, as people can have their breakfast in a glass these days if they're on the run, while still getting an intake of greens, fruit, grains and protein.
"We're doing hacks, tips and tricks to teach people about basic cooking and are promoting Casino's TAFE campus to show that we do hospitality, events and cookery," she said.
Jenny said the cooking demonstrations aim to promote the opportunities that are provided by training, creating possible employment and fostering a greater sense of community.
Brisbane's Chiara Dager attended a demonstration, saying she loves cooking and the idea of using fresh, local produce.
"I think simple is great, so this is my thing.
"I hope to get some new ideas and maybe a little bit of inspiration; easy, healthy and quick things are awesome.
"This breakfast on the go business is really a good idea," Chiara said.
TAFE Events Manager Andrew Habner said the TAFE team is at Primex to promote awareness of taste, courses and support offered to students and businesses.
"Returning to Primex this year assists us promote our agriculture and health offerings, but it's also great for our hospitality and chef students.
"It's great, it gives us a really good look at regional health.
"Casino has always had a good sense of community and they work really hard to support that with events such as Primex, but these little areas won't survive if they don't get supported by each other.
"Casino knows the importance of people and place," Andrew said.
The TAFE cooking demonstration will also take place at Casino's upcoming annual event 'Beef Week' where Jenny and Andrew hope for people of all ages to come along and become more informed about essential kitchen skills.