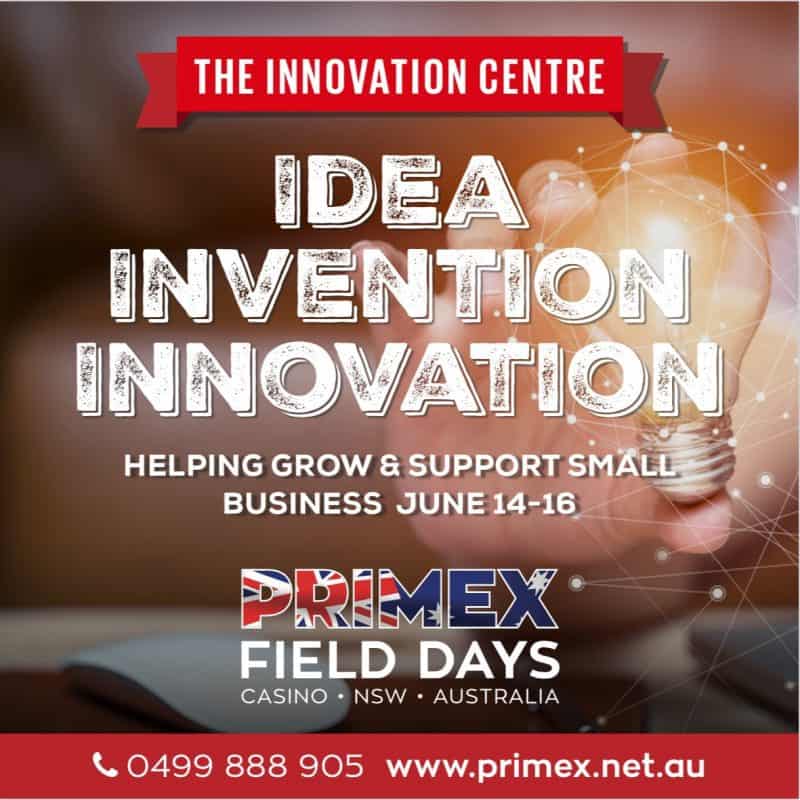 Posted: 21st May 2018
Posted in: News
THE continual loss of 'agri-business innovators' is costing Australia billions and driving up the average age of farmers, according to Bruce Wright, director of one of Australia's longest running field agricultural field days.
According to Wright, whose Norco Primex Field Days has been held at Casino in northern NSW since 1985, cutting-edge thinkers within the national farming community are too often ignored, at a high cost to the nation. "Innovation has been the calling-card of Primex for many years now," says Wright. "It is something that I am personally very passionate about. However too often I am seeing great ideas die on the vine.
"The result of this is of course local and export dollars lost, but also, just as concerning, is the fact that many of these ideas are coming from young, inspirational thinkers from all areas of agri-business and when they are continually ignored they move into other careers.
"As a critical dynamic in Australia's ingenious DNA, invention, manufacturing and innovation have such a broad and diverse meaning. We need to simplify, encourage, support and resource our innovative Australians and build opportunities for small, grassroots innovators through to the larger
manufacturers where opportunities relate to export and international markets.
"One of the main offenders in this arena are agricultural events, such as field days. I visit them across Australia and overseas. These are the perfect arenas to showcase invention and innovation, but too often the 'future of farming' is a cliche at these events rather than a real focus.
"I am proud to say that Primex has a proven history in putting innovation front and centre. It is also one of the key pillars of Primex's five-year plan."
Wright's family started Primex and he has been personally involved since the late 1980s. In 2017 he took over the ownership reins of the event, which will be held from June 14-16 this year.
"Dove-tailing with innovation and invention is the fact that we have an ageing population of farmers," says Wright.
"The three key pillars of Primex moving forward are Innovation, Education and Next Generation. All three are closely linked with not only retaining, but also introducing new fresh faces to agri-business.
"Those who come to Primex each year as exhibitors or visitors know that across the entire facility innovative ideas are everywhere, but especially in our innovation hub.
"In 2018 a dedicated pavilion at Primex Field Days will be the new home of our Innovations Centre, with all interested parties able to access and gain free advice from a range of government departments and agencies, commercial and specialist organisations such as advising lawyers, patent and trademark specialists, accountants, fund managers and product development consultants.
"While many (farmer inventions) have been generally based on growing efficiencies on the farm, equipment development and modifications based on experience from everyday farming operations, the agri-tech sector is too critical for Australia to be left behind when considering how science and technology can continue to advance agriculture."
Wright said Norco Primex 2018 had experienced about a 30 per cent increase in exhibitor numbers with 300 exhibitors already signed up.
"We always face a flurry of activity over the final few weeks, so with the event already the biggest across the past five years, I am very confident of a successful expo this year."