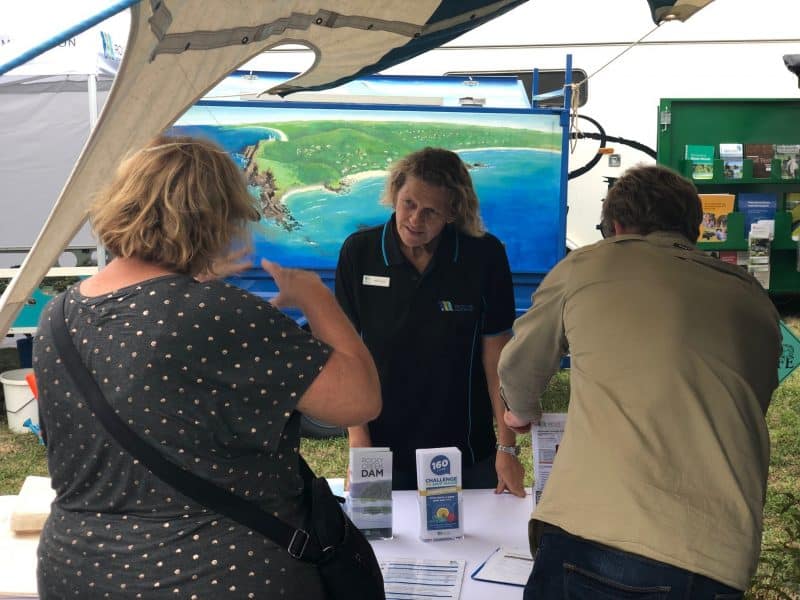 Posted: 17th May 2019
Posted in: News
The biological control of weeds and rainwater tank rebates have sparked the curiosity of landholders and residents visiting the Rous County Council site at the 35th annual Primex at Casino.
Rous County Council Weed Biosecurity Extension Officer Kim Curtis said interest from landholders about weed biosecurity has been high.
"Straight out of the blocks this morning we had landholders come to us to find out about the biological control of Crofton weed (Ageratina adenophora)," said Curtis.
"Crofton weed can seriously affect grazing land on farms and biological control agents are a very effective tool in managing this. Rous County Council provides a free service to eligible landholders."
Cat's claw, Madeira vine and Salvinia are also weeds local landholders can apply for biological control of at the Rous County Council site over the next three days.
Curtis, a local landholder herself who hasn't missed a year since the inaugural Primex, said the event provides a positive place for conversation.
"Primex is a relaxed setting for us to have a chat with landholders so that we can understand what the weed issue on their land might be, and if the land is suitable for the release of biological control agents. If landholders wish, we take their details down so we can follow up when we have a batch of control agents ready to release."
Rainwater tank rebates have also captured the attention of many a resident passing by the site. Rous County Council offers rebates up to $2,170 to eligible residential town water customers in Ballina, Byron, Lismore and Richmond areas who wish to reduce their consumption of town water by installing a rainwater tank.
The Council's well-loved catchment trailer – a colourful, entertaining and interactive model of the catchment area – is also on display and well worth a visit.