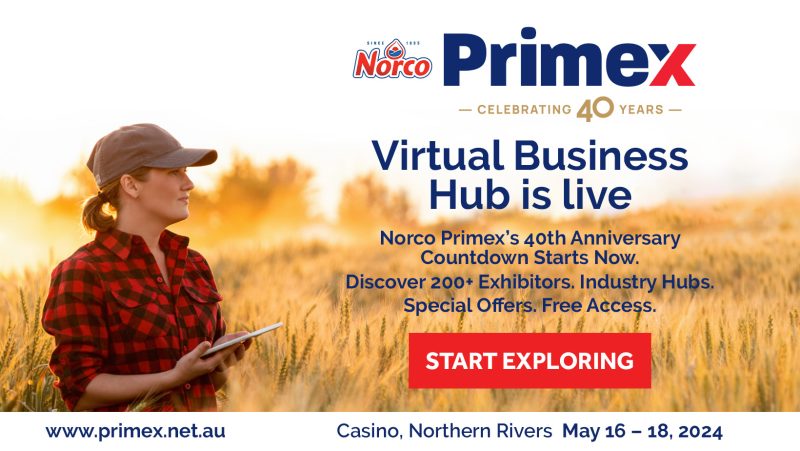 Norco Primex Field Days is proud to announce the launch of its Virtual Business Hub, signalling the countdown to the 40th Anniversary Celebration scheduled for May 16-18, 2024. The Virtual Launch, coinciding with National Agriculture Day, features an exclusive showcase of over 200 businesses already committed to exhibit in 2024, dedicated Industry Hubs, and special offers – Visit the Norco Primex Virtual Hub
Norco Primex Director Bruce Wright is a steadfast supporter of the thriving agricultural community on the NSW North Coast and takes great pride in the legacy the field day has created since its inception in 1985.
"As the only family-owned agricultural field days in Australia, we remain proud of our 40 years servicing the needs of our farming and rural communities, throughout one of the most diverse primary industry, food production sectors in the country," said Wright.
"We are fortunate to savour world-class food and fibre cultivated by our remarkable Aussie farmers and primary producers, who contribute to our everyday lives—from the food on our tables to the clothes we wear and the homes we live in."
Mr. Wright states, "48% of visitors to Norco Primex are primary producers."
"Primex has always been a hub for innovation, industry, and community collaboration. As we launch the Virtual Business Hub and commence the countdown to our 40th Anniversary on National AgDay, we're excited to provide exhibitors and attendees with a sneak peek into what's in store for 2024, and this is only just the beginning."
Some of the key program highlights for 2024 include an Australian Field Day-First through collaboration across the extensive Agritech sector. AusAgritech, AgTech Finder, and the NSW Department of Primary Industries, in conjunction with Primex, will foster a unique synergy between technology providers and farmers, where they can explore innovative technologies—from remote sensors to drones—that enhance productivity and profitability. The Business & Innovation Hub will host workshops, demonstrations, panel discussions, and interactive trade displays, offering practical advice to all industry sectors through hourly showcases and discussions.
Another ground-breaking feature of Norco Primex 2024's 40th Anniversary is the dedicated Regenerative Agriculture Hub, a testament to Primex's commitment to fostering sustainable farming practices. Launching for the first time at an Australian Field Day, this hub serves as a central platform promoting soil health, environmental protection, climate resilience, and increased farm productivity.
Central to the ongoing success of Norco Primex is industry collaboration, highlighted by initiatives such as the Livestock Hub with expansions in Beef and Dairy, which underscores the pivotal role of the livestock industries in the Northern Rivers region with leading collaborators such as the NSW Department of Primary Industries and Meat and Livestock Australia, encompassing a spectrum of production, including beef, dairy, sheep, goat, pork, and agri-tech initiatives.
In partnership with state and national forestry organisations, the Primex Forestry & Timber Hub is set to become the largest event on the forestry industry's calendar.
"It brings together the entire supply chain of the forestry and timber industry. The hub will showcase the North-East NSW Region's significant hardwood production, covering every aspect of the industry, from machinery to technology," said Wright.
Future announcements will highlight many more new and exciting inclusions that will appeal to everyone. With over 60% of sites already secured by exhibitors, the event is on track to be the biggest in its history. The Virtual Launch marks 180 days until the milestone event, Australia's largest coastal-based field days, showcasing the Northern Rivers to a national and international audience. The countdown to Norco Primex's 40th Anniversary begins now!
About Norco Primex Field Days:
Celebrating 40 years in 2024, Norco Primex Field Days is Australia's Sustainable Farming and Primary Industries Expo, serving as a crucial platform for over 400 exhibitors, 800 companies, and 1,850 Industry Group Representatives. Hosted at the Richmond Valley Events Centre, a specialized field day venue situated in Casino, Northern Rivers, the event provides central access to agricultural regions in North & Mid-Coast, New England, Scenic Rim, Granite-Belt, and the Darling Downs. In 2023, it drew 25,000 visitors and is expected to increase to over 30,000 in 2024, while Primex generated an estimated $67 million in sales. The 40th Anniversary event will be held over 3 days, from May 16 to 18, 2024.
#australianagriculture #Primex40thAnniversary #Primex2024 #FieldDaysANZ #AgChatOz
Norco Primex 2024 is proudly supported by: